Private Covid Testing
107 Harley Street is a DHSC-approved provider for the provision of private coronavirus COVID 19 testing.
If you are looking to travel, or in some circumstances, looking to return to work, a negative COVID test result may be required. There are different types of test available, which can be used for different purposes, from the super fast rapid lateral flow antigen tests, or the most commonly used PCR test.  We can provide you with the correct testing certificates required for international travel too. 107 Harley Street offers the full range of COVID 19 tests available, including: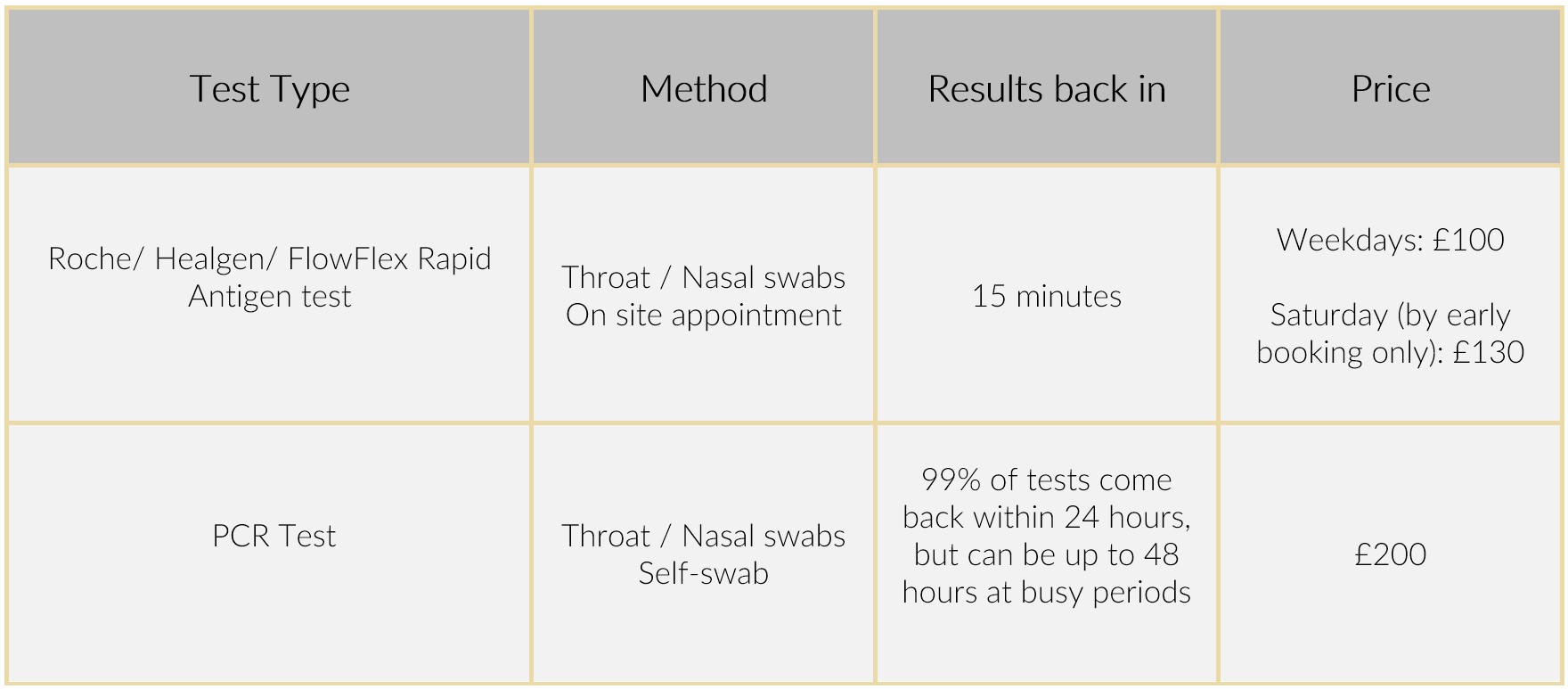 To book a test, please email covidtesting@107harleystreet.co.uk and specify the particular test that you would like.
Corporate packages are available for organisation's wanting to procure ongoing employee testing provision.
COVID 19 Tests for Travel
You will need to check with your airline regarding the specific test you require before you call and book your COVID 19 test with us. Different airlines are currently accepting different tests and this information is subject to potential revision by the airline operators.
If you are travelling, please ensure you have a valid email address at the time of booking to ensure test results can be sent back to you. This is important in ensuring a timely delivery of your test results.
Public Health England require every clinic conducting testing for COVID-19 to provide patient names, dates of birth and addresses for every person being tested, regardless of the outcome of the test. By attending the clinic, you are consenting to us providing this information to Public Health England.
COVID prevention and control protocol
As a provider of medical facilities, the safe use of our premises is paramount. In addition to our continuous cleaning schedule, our staff on site have all been vaccinated, and are currently still tested twice-weekly and temperature checked daily upon entry to the building. Hand-washing facilities are available as soon as you walk through the door and must be used by all visitors.
Consultants providing medical services to patients from the premises will be expected to test their patients 72 hours prior to their procedure, as per national guidance. Patients coming in for consultation will be temperature checked upon entry, required to wash their hands upon entry and expected to wear a mask at all times when possible.
Covid Testing Contact Form.
If the above self book in feature does not work, please fill in the form below and provide as much information as possible.